Lou Eastman and Scott VanFossen go way back to a time when they collaborated on a couple of songs long-distance, trading tracks over the internet. Lou was writing songs and playing all the parts for a project called Rumors of War when Scott, guitarist/songwriter/vocalist for Fighting Zero, found the songs on MySpace (haha…wayyy back) and offered to lay down some vocals (read full story here). Fast forward to today where Scott is making custom amps and pedalboard accessories and being reviewed/featured in Premier Guitar magazine for his new line of amps! Well, Lou wanted to try out his QuickFix buffer, router, effects-loop. So he ordered one and Scott custom built one for him and threw in an extra trick switch to brighten or darken the tone (around 7kHz, +/- 2dB).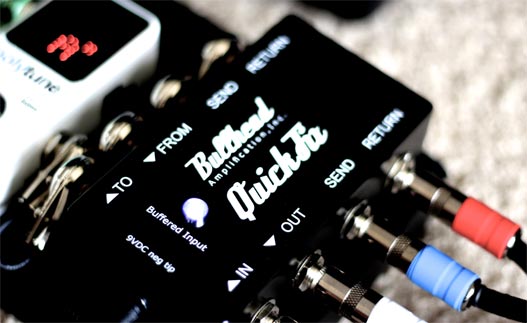 Lou is looking to take the leap at some point and go full-tone with one of Scott's hand-wired amps!
Check them out at Bullhead Amplification, Inc.